Ecommerce has gained popularity over the years and has grown steadily ever since experts uncovered the potential of the internet as a marketplace. What has additionally resulted from this industry's popularity is a massive demand for more inclusive and sophisticated Ecommerce platforms that could exhaust a brand's potential.
Ecommerce platforms help startups scale up and similarly aid in the amplification of bigger and busier businesses. Whatever your needs are, there's always a place for your own Ecommerce business! Here we share three open-source Ecommerce platforms we use for our clients and the winning reasons for you to try them, too!
Open-Source Ecommerce Platforms We Use
Ecommerce is generally categorised under 6 different transaction models and while we won't be detailing all these models in this article, we will still touch base with three of the best platforms that make these transactions possible.
WooCommerce—the winning "no fuss" plug-in
The content management system WordPress released WooCommerce in 2011, a free plug-in that is widely popular among small to medium online enterprises. It won many developers over when it was first introduced since it promises ease of use with its simplicity; it's easy to install and understand, and a big relief to those without extensive web development skills. Most noteworthy of all is that this is a fairly intuitive system that allows merchants to add their content without any fuss and customise the website's look and backend based on their preferences.
WooCommerce is also connected to major payment gateways which adds a boost of reliability and security to its name. They also claim to power 28% of all online stores in existence, which is a sizeable portion when compared to their closest rivals.
Pros:
Easy to set-up and understand
Cost-effective since the base plug-in is free
Connected to major payment gateways
Intuitive
Powerful SEO
Cons:
Dependent on WordPress
Lacking customer support
Decentralised support for every theme, plug-in, and hosting site
This might be for you if…
You have an existing WordPress account. Since it is an Ecommerce plug-in, you must already be powered by WordPress to get WooCommerce. It is easy to install, so if you're one of the sizeable portions that doesn't have expert development knowledge, you can get it. The platform is also best for those conscious about their spending and would want to save as much as they can but still demand powerful SEO-capability from their Ecommerce platform provider.
Magento—the reliable "all-in-one" Ecommerce system
Pegged as one of the most popular, if not the most powerful, open-source Ecommerce platforms, Magento ensures a heightened user engagement for the websites it powers. It's an all-in-one Ecommerce system that specialises in providing a range of Ecommerce solutions.
For an Ecommerce business, having fast-loading pages almost always equate to higher purchases. Magento has lower HTTP requests, and as a result, websites load faster. This decrease in page load time improves visitors' conversion rate by leaps and bounds and helps seamlessly finalise purchases.
Glovida, one of our most established Ecommerce clients to date, knew this when they launched their website. Magento is scalable, meaning it can handle a large outpour of new clients and product releases, which made it a perfect choice for Glovida. It's thick with features that guarantee no-fail management of Glovida's heavy data, plus fast-loading pages that allow the whole Ecommerce operation to run seamlessly.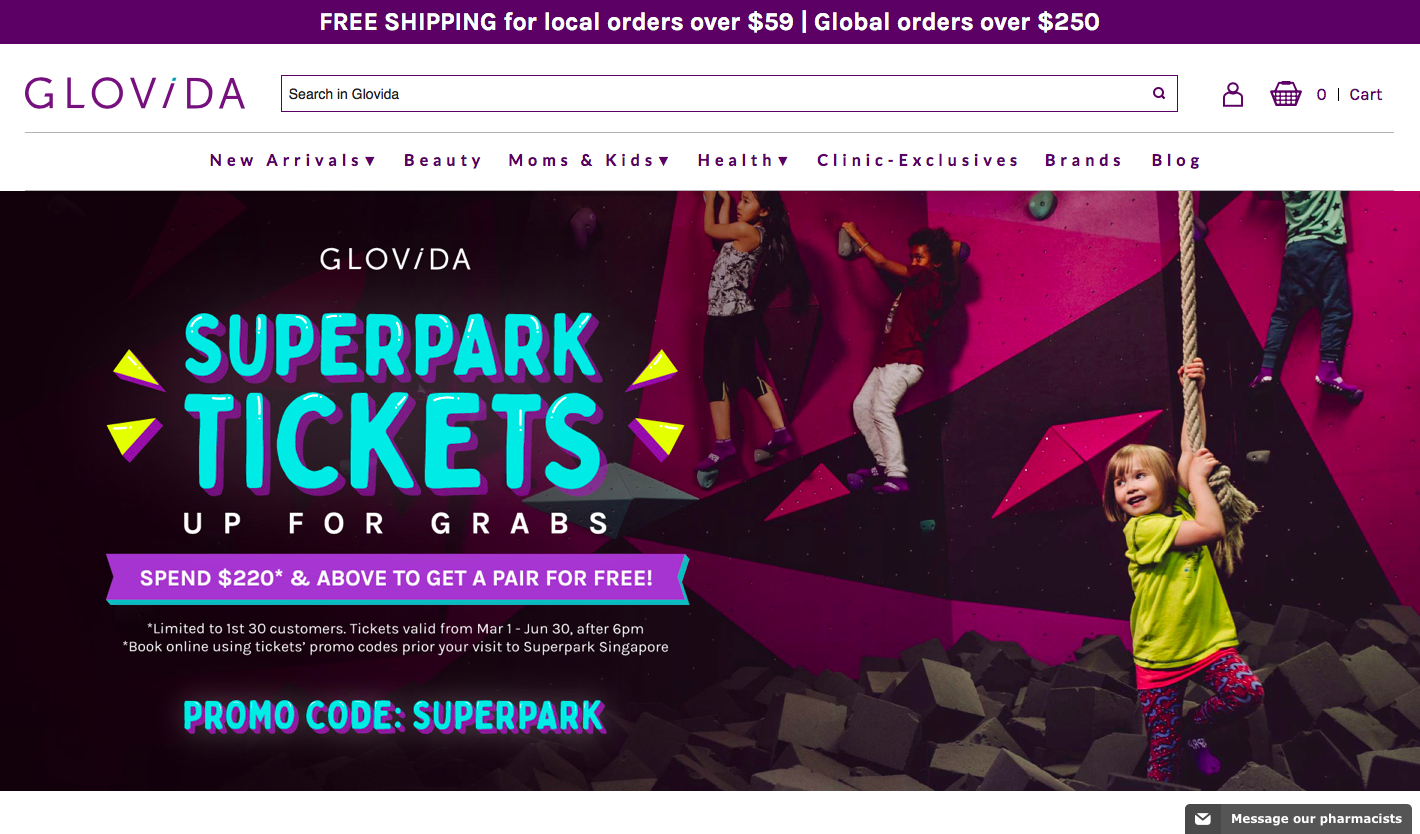 Glovida Revamped Landing Page
Pros:
All-in-one package (marketing, SEO, and catalog-management tools)
Low HTTP requests that help load pages fast
Allows for third-party integrations
Feature-rich (enables local currencies, multiple locations, languages, etc.)
Scalable
Cons:
Not suited for beginners
Developers using Magento could be hard to find
This might be for you if…
You need a scalable platform that can handle large user- and product-increases over time since Magento promises to complement the growth of your business and improve profit margins with it. It's also a perfect choice for those who want other digital marketing aspects handled. Magento's for you if you have expert developers in your team since its development and management could be extensive.
Shopify—the beginners' go-to eEommerce platform
Here's the big dog topping the charts lately; Shopify accounted for a staggering 54% revenue growth in 2018 alone as more and more e-merchants flock the platform. It runs smoothly and its solutions are a "no-brainer", enticing to even those without extensive web development know-how. The strong and easily customisable features of Shopify give merchants everything they need, from processing orders to seamless management of customers' payment options.
Best of all, the designs in the Shopify directory are all mobile-friendly and responsive, making it a better fit for businesses that maintain visual appeal as their top priority. Shopify also brims with expert developers ready to help beginners with their basic and complicated concerns and queries, including undeterred access to a directory that has both free and paid add-on plug-ins.
Pros:
Ease of use
Wide array of features
Mobile-optimised
High-level community support
Multi-channel integration to connect to social media sites
Cons:
No blogging capabilities
Products have only three options
This might be for you if…
You want to sell across channels (Facebook, Instagram, eBay, Amazon). Shopify is perfect if you need something simple to use but still has a rich inventory system. And while it's a perfect fit for beginners, Shopify has a winning customer support service helmed by experts in the field, so you have an experienced community ready to answer your questions.
Conclusion
Businesses reconcile their marketing initiatives with the wider, digital audience by unpacking the potential of the Ecommerce industry. Aside from that, Ecommerce allows businesses to cover more inclusive bases to grow their community, helping chart their unmatched potential in the digital realm.
Here's a comparison table of the three platforms to help you make an informed decision: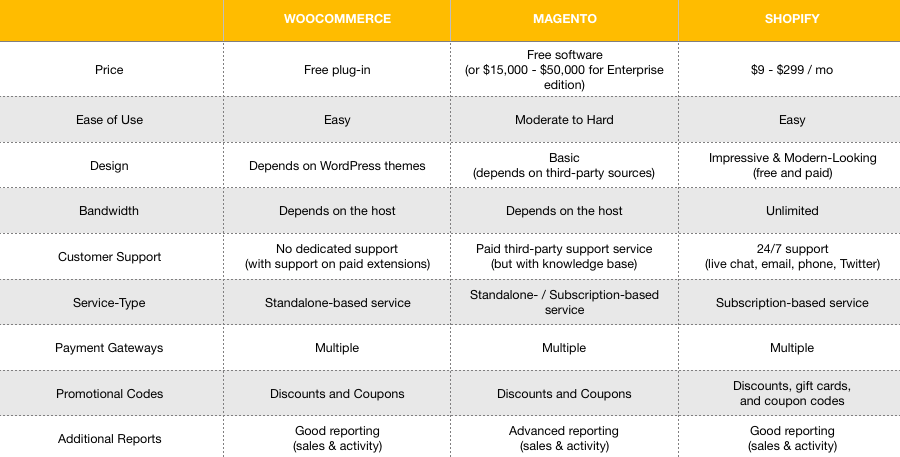 Figure 1. Ecommerce Platforms Comparison Table
In the end, what would help define the best-suited platform for your business are your development team's skill-level, including the range and type of products you offer. All these must be consistent with the features of your chosen Ecommerce platform.
If you're still stuck on an "Ecommerce quandary", it's best to take the advice of leading Ecommerce experts and developers. Start communicating your plans to those with technical know-how today!